PM Masrour Barzani's Commencement Speech at University of Duhok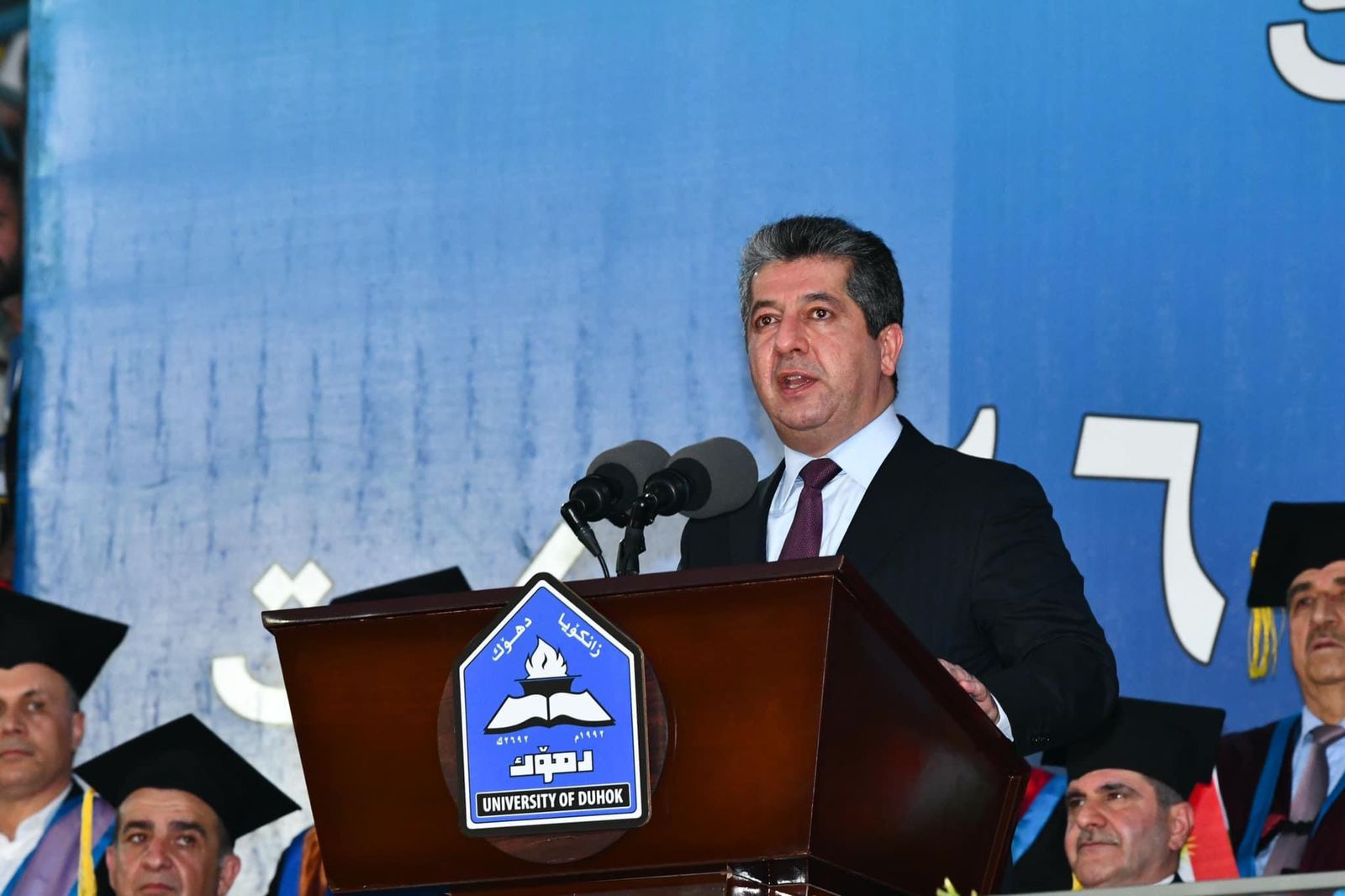 Erbil, Kurdistan Region, Iraq (GOV.KRD)- Prime Minister Masrour Barzani today delivered the following commencement speech to the class of 2022 at the University of Duhok.
In the name of God,
Duhok University Board, President, and Faculty,
Dear 25th and 26th round of graduates,
Families and attendees,
I am very happy to be participating in this ceremony in Duhok with you. I offer my warmest congratulations to the dear graduates and wish them success and bright futures. I thank the mothers, fathers, and families of the graduates for their efforts and tirelessness in supporting their children to reach this level of education and lead a successful life.
I have great gratitude and respect for the professors who have carried out their duty of educating and raising the dear students. I wish them success in delivering their important message, which is the message of education and of teaching our younger generations.
It is also an appropriate time to thank and express gratitude to our Peshmerga, Police, and Asayish forces for providing such stability and peace in the Kurdistan Region, which enables us to hold such ceremonies. I also want to pay my respects to the lives of our martyrs and their families, as we have reached this day as a result of their sacrifices.
The University of Duhok is among the most important universities in the Kurdistan Region. Since its inception in 1992, it has served the people of Duhok, the Bahdinan region, and the Kurdistan Region greatly. Before its establishment, Dr. Ismat met with President Masoud Barzani and asked for his support in establishing the university. President Barzani offered great support for this university and it was established under his supervision. Since then, this university has educated thousands of young people who today serve the Kurdistan Region in different sectors. It also has a strong relationship with local and international academic institutions. I hope that the University of Duhok remains successful in its academic mission, and develops its scientific approach even further.
The Kurdistan Regional Government (KRG) considers the education process as a crucially important task. One of the cornerstones of the ninth cabinet's reform process is the education sector, which makes up a large part of the process, because we want to develop our education and higher education systems to a very high standard in a way that it is compatible with modern technology and science. Our goal is for the Kurdistan Region's youth to learn those skills and professions that prepares them for the job market and it is important for the development of the Kurdistan Region for them to become a strong support in the economic development of our country. Through a thorough and developed education, we can raise an aware and intellectual youth. One that is patriotic, and one that loves science, because the main goal of education should not only be a diploma, but also to raise the awareness of society and to serve it.
As part of our efforts to reform the education sector, we have established a body entitled "The Kurdistan Region's board for accredidating education and higher education" and this draft bill is now with the Kurdistan Region parliament for a final review. The goal of this board is to increase the quality of science and education of all the education institutions to a global standard. I hope that universities and academic centers in the Kurdistan Region continue their research to continue to develop the level of scientific research and the academic quality of education.
Dear Professors and students,
The idea of patriotism and prosperity of the country are among the main aims of the education process. Our students need to be educated on patriotism, humanity, respecting one another, coexistence, and forgiveness because we need our youth, when they finish their education, to serve their society and to help develop their nation.
We all know that there are many attempts to hinder the development of Kurdistan Region. There are many who cannot stand to see the Kurdistan Region prosper, and to this end they cast their efforts into making you lose hope and make this country dark in your eyes.
My request and my hope is for you to respond to them with your patience. Respond to them by saying that you are responsible for this land and will ensure it prospers and develops. No one will come and develop our country for us if we are not ready to take on this responsibility ourselves. I have a lot of hope in you to develop your nation and country with your education and science. My hope is that you do not listen to propaganda and let it become an obstacle to developing your country. I have great hope that the future of our country is a bright and prosperous future, and with the will of God and your efforts, we can develop this country everyday and lead ourselves towards success.
To all the students and youth of the Kurdistan Region: try to innovate, so through your innovative minds, you are able to provide new job opportunities for yourself and your contemporaries. Today I reiterate to you that the Kurdistan Regional Government will in every way support you innovative ideas and projects. I believe that the youth of Kurdistan are filled with innovators that are no less than the youth from any other country. We have many talented and innovative young people and I hope to see them succeed very soon.
I once again congratulate you all and wish you the best of luck and great success in your futures, and I hope that we all learn and make use of your knowledge and education, in order to carry Kurdistan to success.
May you and Kurdistan always be prosperous.