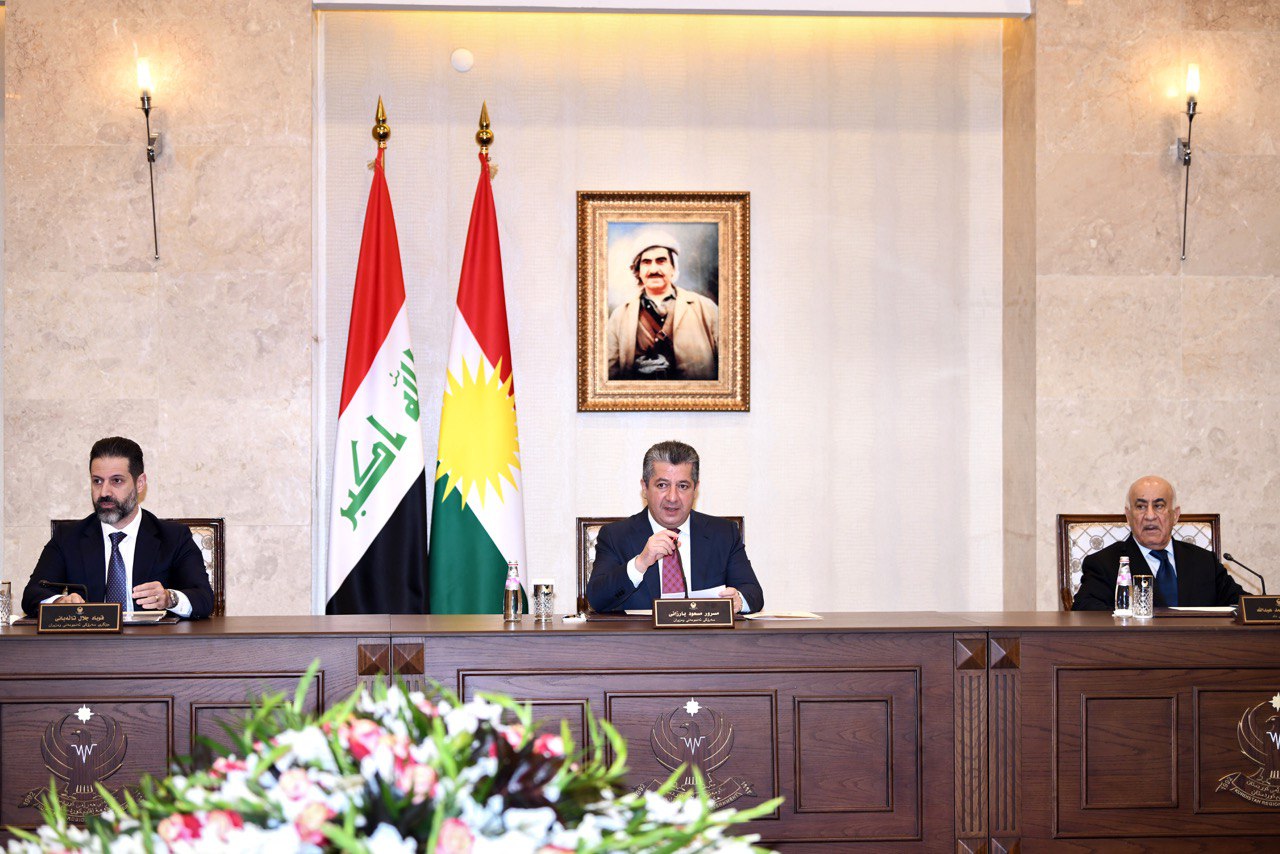 On September 20, 2023, Prime Minister Masrour Barzani chaired a session of the Kurdistan Regional Government (KRG) Council of Ministers, with Deputy Prime Minister Qubad Talabani in attendance.
The Council began by condemning the attack on Arbat's agricultural airport in Slemani Governorate, offering condolences to grieving families and wishing the injured a quick recovery. They emphasised the importance of respecting the sovereignty and stability of both the Kurdistan Region and Iraq.
The first part of the meeting focussed on the KRG delegation's visit to Baghdad on September 14, spearheaded by Prime Minister Barzani. The conversation revolved around the financial matters of the Kurdistan Region, as well as interactions with key Iraqi political entities.
Prime Minister Barzani emphasised the steps taken to guarantee public sector salary payments. The delegation presented detailed solutions for both immediate and long-term salary disbursement challenges to the federal authorities.
The Federal Council of Ministers swiftly approved a proposal to augment the loan amount. Concerning long-term solutions, the KRG stressed the importance of treating their public sector salaries as legal entitlements, free from political disputes. They highlighted that KRG salaries should be consistent with the federal budget provisions.
Prime Minister Barzani acknowledged the resilience of the Kurdistan Region's citizens amidst salary delays and appreciated the support of the Kurdish factions in the Iraqi Parliament.
The Council, speaking through its president, asserted their commitment to the constitutional rights of the Kurdistan Region's people, emphasising efforts to address the public sector salary issues. They have put forward proposals to the Federal Prime Minister and reached a mutual understanding on a balanced solution. The Council further encouraged all ministries to aid the Federal Board of Supreme Audit with the necessary data on employee counts and salaries.
Upon receiving an initial deposit of 700 billion Iraq dinars from the Federal Ministry of Finance, Prime Minister Barzani has instructed the KRG Ministry of Finance and Economy to initiate the disbursement of July's salaries.
Additionally, Minister of Health Saman Barzinji briefed the Council on the cholera outbreak, presenting recommendations for preventive measures. After discussion, these recommendations received the Council's endorsement, urging relevant ministries to act promptly.
On September 20, 2023, Prime Minister Masrour Barzani chaired a session of the Kurdistan Regional Government (KRG) Council of Ministers, with Deputy Prime Minister Qubad Talabani in attendance. The Council began by condemning the attack on Arbat's agricultural airport in Slemani Governorate, offering condolences to grieving families and wishing the injured a quick recovery. The …
Read more…