KRG Prime Minister: Fostering Intellectual and Scientific Excellence in Our Universities for a Conscientious, Innovative, and Patriotic Generation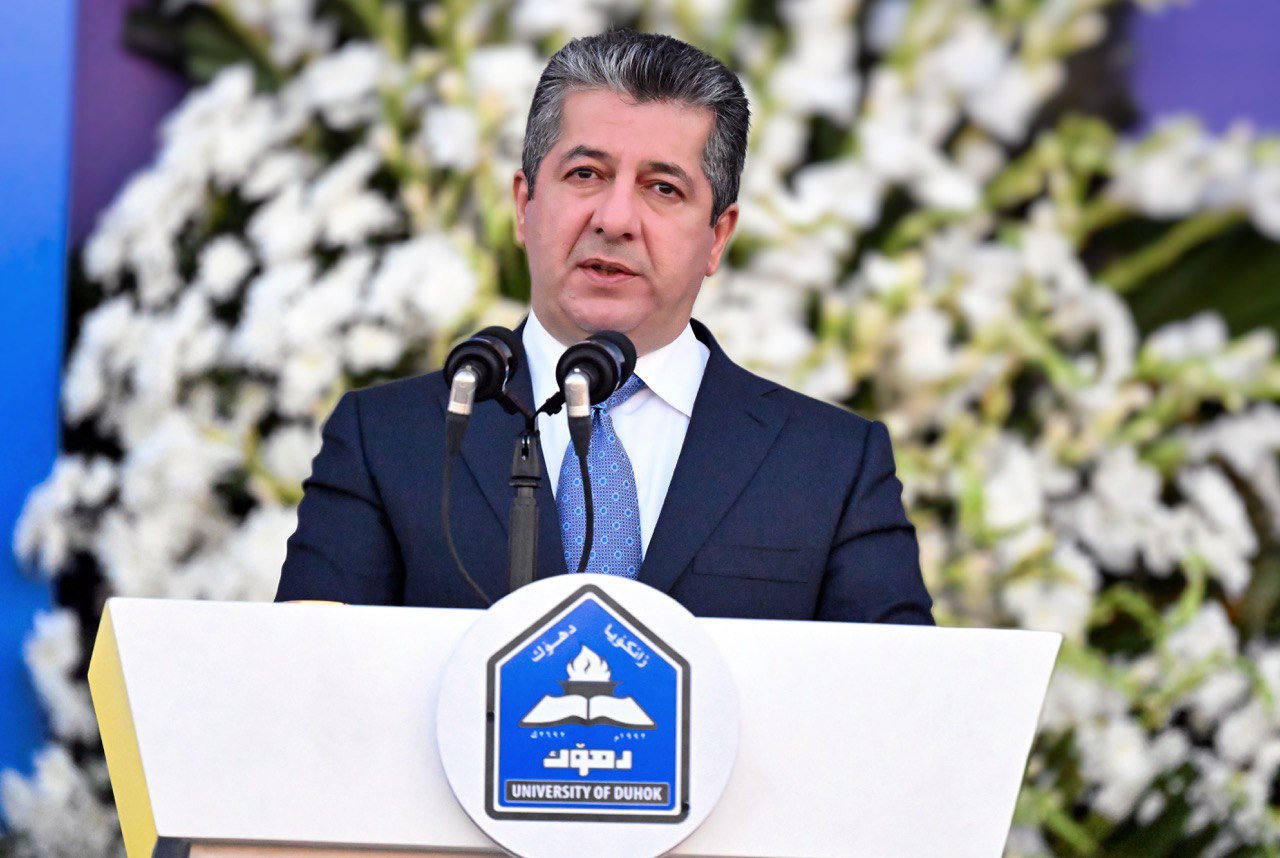 On Monday, November 6, 2023, Prime Minister Masrour Barzani of the Kurdistan Regional Government (KRG) graced the graduation ceremony at Duhok University.
In his address, Prime Minister Barzani celebrated Duhok University's transformation into a leading educational institution in the Kurdistan Region. Thousands of its graduates have gone on to play pivotal roles in public life.
He stressed that universities hold a crucial mission in advancing the nation's development. Through their research endeavours, they are vital in constructing a strong foundation for a progressive and modern society.
Prime Minister Barzani's speech unfolded as follows:
"In the Name of God, Most Gracious, Most Merciful,
"Duhok University was born in challenging times, but today it stands proudly as one of the Kurdistan Region's most reputable educational institutions, producing numerous distinguished professionals and leaders in public life.
"Addressing the current regional tensions and conflicts in the Middle East, we, as Kurds who have experienced the ravages of war, call for peace, the protection of civilian lives, and peaceful conflict resolution.
"Regarding our relations with Baghdad, the KRG has diligently pursued resolutions with the federal government to safeguard the constitutional rights of our people. We have cooperated fully and expect reciprocal commitment to our region's rights.
"We acknowledge the resilience of our people, particularly public sector employees facing salary delays due to external pressures. These challenges should not deter us from our pursuit of constitutional rights, equality, and coexistence.
"Our universities must evolve into intellectual and scientific hubs, nurturing a conscientious, innovative, and patriotic generation capable of driving progress across all sectors.
"As the Kurdistan Region develops its economic infrastructure, we call upon our graduates to engage through innovative projects and ideas.
"The world is advancing rapidly, especially in technology and artificial intelligence. We must prepare ourselves to adapt to this dynamic landscape.
"Simultaneously, the world faces pressing challenges like climate change and water scarcity, which will significantly impact our region. Our universities and youth must play an active role in addressing these crises.
"We understand your aspirations for employment. Despite challenges, we're expanding job opportunities through private sector collaboration and investment across various industries.
"We're also working to reform the region's financial system, promoting small and medium sized enterprises. Project Gashanawa (Shine) aims to create additional job opportunities.
"Numerous plans are underway for agricultural, tourism, and industrial development, and your ongoing support will be crucial for their success."