PM Masrour Barzani attends Hawler Medical University graduation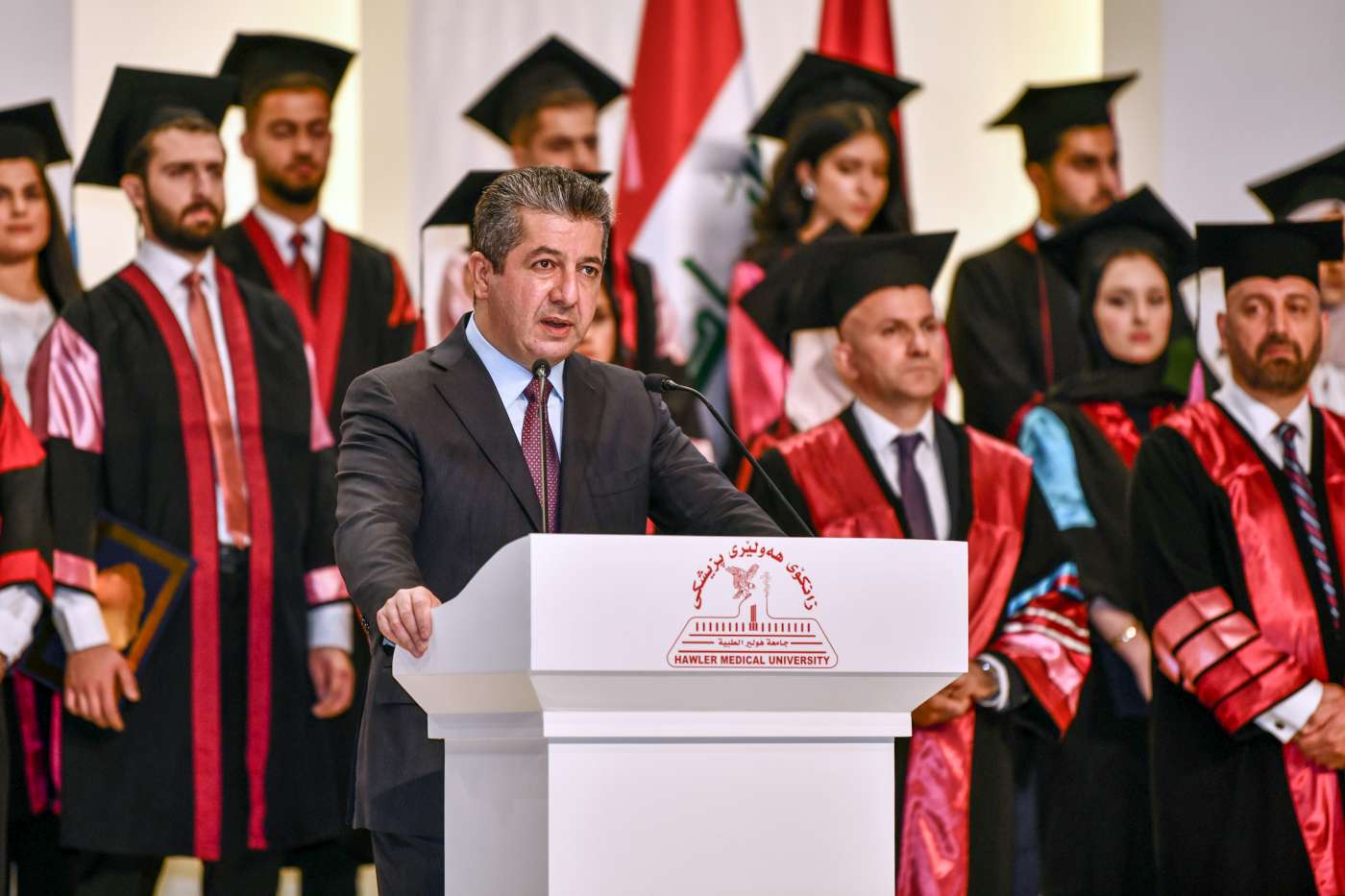 Erbil, Kurdistan Region, Iraq (GOV.KRD) – Prime Minister Masrour Barzani on Saturday attended the graduation ceremony of Hawler Medical University (HMU).
In a speech to graduates, Prime Minister Barzani addressed the importance of the graduates' tasks in life following graduation.
"As you become doctors, I hope and I am certain that you will remain committed to the glory of your job and your oath," he said, adding that the main objective of their career should be saving people's lives and maintaining their health.
The Prime Minister further praised the ever increasing quality of education in universities across the Kurdistan Region.
"We are witnesses to the fact that the level of our universities has iincreased, but for us to be able to compete with universities globally, we considered it necessary to establish this association," he said, referring to the Kurdistan Accrediting Association for Education (KAAE) established by the Ninth Cabinet.
Prime Minister Barzani remarked that the Ninth Cabinet has taken several steps towards developing the health sector in the Kurdistan Region, while acknowledging the sector's shortcomings.
"Be certain, I will always be a staunch supporter of you, and I will support your projects and innovations," Prime Minister Barzani remarked. "I am sure that you have many skills and talents which can help develop Kurdistan and support the reform process and changes that we have started in the Kurdistan Region."
In the interests of supporting doctors and healthcare professionals in the Kurdistan Region, and as part of the Ninth Cabinet's reform agenda, the Kurdistan Regional Government (KRG) recently launched a ground-breaking new project to reform the procurement of essential medicines.
This initiative will centralize the previously diffuse procurement process for medicines and pharmaceutical products in order to stabilize their price and ensure their quality across the entire Kurdistan Region.