KRG Prime Minister: Developing the Education Sector is Among our Priorities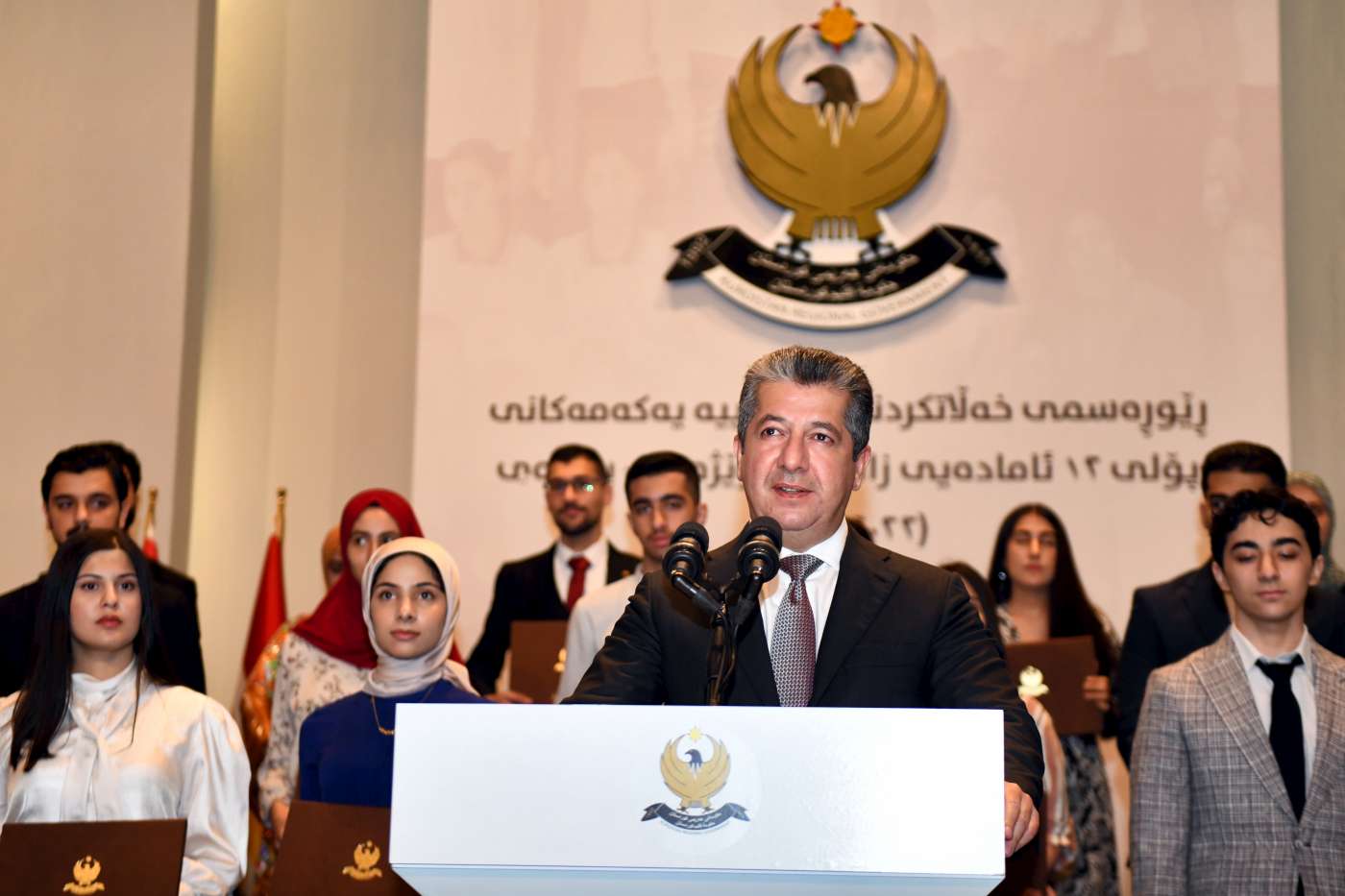 On Wednesday, August 16, 2023, during an award ceremony to honour Kurdistan's top ranked students for the academic year of 2022-2023, Prime Minister Masrour Barzani of the Kurdistan Regional Government (KRG) emphasised the significance of the education sector.
Below is an excerpt from PM Barzani's speech:
"In the Name of God, Most Merciful,
Esteemed guests,
Dear lecturers, parents, and students, I am humbled to be here today.
Esteemed attendees,
Before I begin my speech, I would like to say that today, August 16, marks the birth of President Masoud Barzani and the founding of Kurdistan Democratic Party (KDP).
I take this opportunity to extend my warmest congratulations to President Barzani and all patriotic people of Kurdistan. We hope God will be on his side and help him in his determined efforts and ambitions for leading our nation and homeland.
On this day, I would also like to extend my deepest congratulation to the KDP's leadership, and all its members and advocates. We hope this event will further strengthen their union and spirit of patriotism to serve our nation and people.
Respected guests,
I am honoured to be here with our most talented students today at this ceremony, and I am even more honoured to have our top students from Kirkuk, the heart of Kurdistan, among us. I appreciate your efforts and congratulate you for your successful accomplishment in this stage that allows you to take the next step in your academic life. I wish you success in all parts of the life ahead of you. Moreover, I extend my appreciation to the dear parents and educators for their unwavering support for you.
Dear attendees,
Education and training have always been a significant sector for me and the Council of Ministers. In difficult situations such as the outbreak of COVID19 or at the time of financial and economic difficulties in Kurdistan, we devoted all our power and efforts to make sure this sector continues to operate. I take this opportunity to express my gratitude to the Ministry of Education, particularly Minister Dr. Alan and all teachers and employees in this sector who spent days and nights, devoting their time and strength faithfully, in order to pass these difficult times, and not give up.
Tutors, despite their demanding tasks, remained a symbol of patience in our society. In the most difficult times, they never left the holy stronghold of education and training. Their attitude will always be remembered and appreciated.
Dear guests,
We have a clear vision for the future of Kurdistan in all aspects. We want a progressive Kurdistan with a diversified economy, advanced agriculture, a clean environment and developed homeland. We want a land that has a strong foundation. We want a homeland that is stable, where all groups and individuals can live in peace and dignity. But I know that the achievement of all these goals would be difficult without a strong education and training system. Therefore, I have always emphasised the importance of developing this sector. In particular, I have underscored the significance of culture, beside the teaching of sciences. The cultivation of the future generation and members of our society will begin in kindergarten and schools. If we want our future generations to have love for their land and their people, we must start cultivating them from school age.
I always discuss these issues with the leadership of other countries that have successful experience in this field. I emphasise the importance of our collaboration and benefit from their knowledge. If God wishes, with the help of all respected parties, we will take practical steps, because I believe cultivating human beings, developing their skills and talents, is the foundation of all other types of progress and improvements.
Dear attendees,
Our dear educators, like our Peshmerga, fought. They fought to improve our education and training sector. No doubt, to achieve further success in this sector, our teachers and educators should continue with their patience and patriotic attitude. The educationalists must have access to the latest skills, knowledge, and training. Our dear teachers will be the dynamic for the changes we want to implement in this sector. With our acknowledgement and appreciation of the teacher's efforts, once again, we reiterate our support for them in safeguarding and achieving all their rights and requests.
I extend my congratulations once again. and I wish you all a successful life. I hope you become innovative and creative individuals, building a further developing motherland.
Live in happiness and success. I wish our land continues to progress.
Thank you all