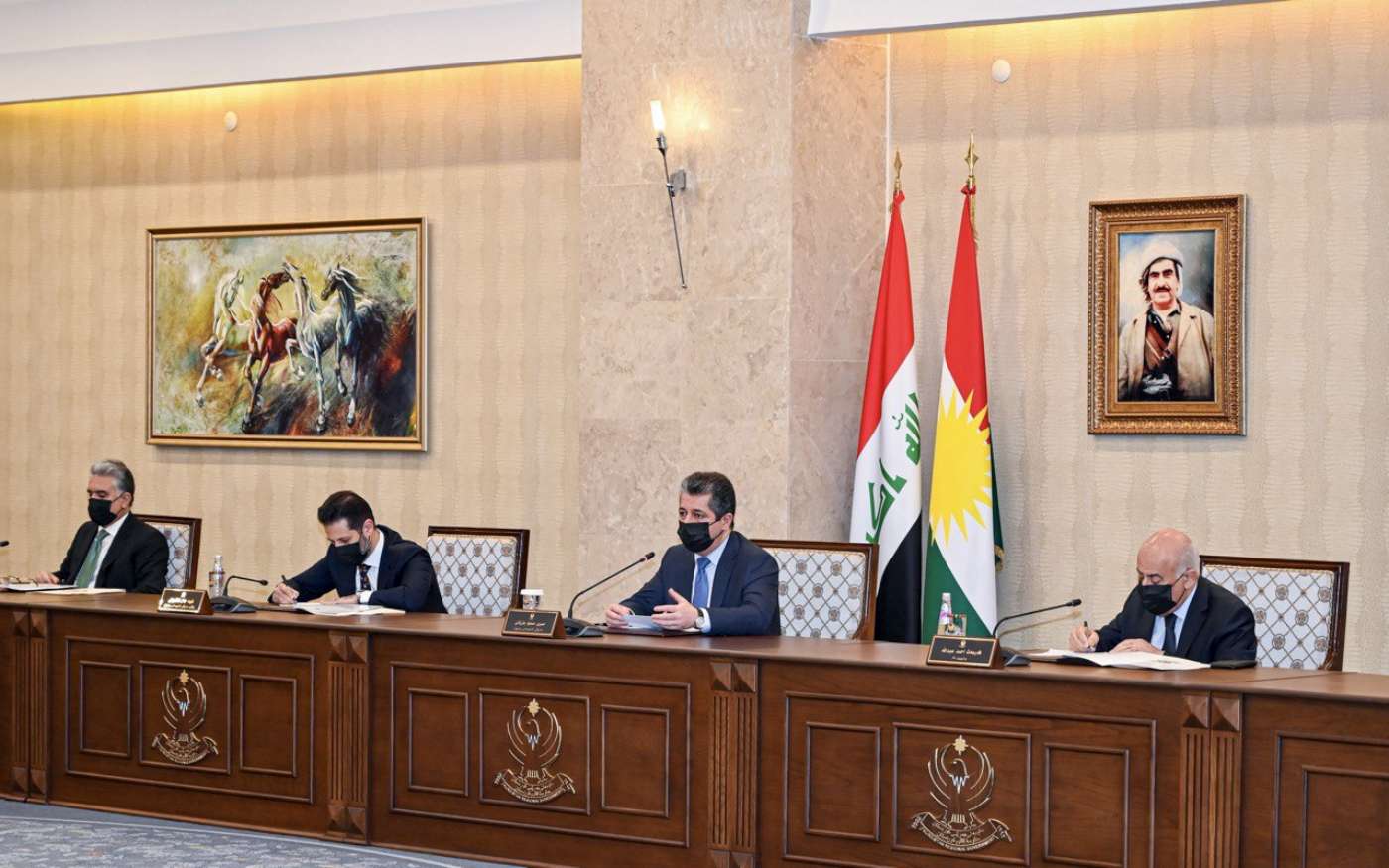 Erbil, Kurdistan Region, Iraq (GOV.KRD) – The Kurdistan Region Council of Ministers on Wednesday held its weekly meeting led by Prime Minister Masrour Barzani.
Opening the meeting, Prime Minister Barzani addressed his recent meeting with the heads of various Kurdish media outlets and tasked all Ministries and government officials with further aiding the media and providing them with information as part of the government's transparency agenda.
Deputy Prime Minister Talabani supported Prime Minister Barzani and suggested implementing the Law of Obtaining Information, No. 11 of the year 2013.
Thereafter, the Minister of Health outlined the Ministry's approach to preventing the spread of cholera, supported by data, and means of fighting its spread.
The Council praised the Ministry's work and approved the Minister's report. Relevant institutions and Ministries were tasked with continuing preventive measures, particularly through ensuring the cleanliness of water sources.
The Interim Minister of Natural Resources then addressed the Council's decision on fuel prices. Prime Minister Barzani praised the Ministry's work to reduce prices and tasked them with continuing their efforts to increase local production and controlling prices.
The next portion of the meeting was dedicated to the reforms undertaken by the ninth cabinet since they assumed office. Reports were presented by the different Ministries and will be published to the public in the near future.
Next, the Council approved various recommendations proposed by different Ministries. These included steps such as increasing work hours as per the Council's previous decision, the removal of customs on essential goods until September 30 2022, and easing the process of importing red meat until October 17 2022.
The Council then reiterated its compliance with implementing the Law on Preserving the Rights of Different Ethnic Communities, No. 5 of the year 2015. The Council tasked relevant Ministries and institutions with taking the necessary measures to implement this law.
Finally, the Council's Secretary presented a report on the importance of continuing the auditing process of the oil and gas industry and increasing transparency in the process by providing the public with the relevant data and statistics.
The Council approved the suggestion to continue the auditing process and also stressed the importance of training employees of the auditing Diwan of the Kurdistan Region in order to promote both transparency and the auditing level within the Region.
Erbil, Kurdistan Region, Iraq (GOV.KRD) – The Kurdistan Region Council of Ministers on Wednesday held its weekly meeting led by Prime Minister Masrour Barzani. Opening the meeting, Prime Minister Barzani addressed his recent meeting with the heads of various Kurdish media outlets and tasked all Ministries and government officials with further aiding the media and providing the …
Read more…